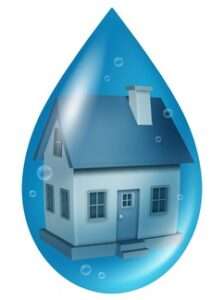 From a Damp, Musty Winter to a Dry, Fresh and Healthy One
For the past 3 years, we've been experiencing wetter than average winters across the eastern coast of Australia and this year is certainly no exception. As we know, with all that rain often comes an uncomfortable and unhealthy dampness in our homes.
Another problem we notice that during the winter months is condens
ation commonly appear on windows, tiled floors, causing clothes to smell musty and spots start appearing in those dark corners where ventilation might not be adequate. With rainy weather, clothes frequently need to be dried inside, and moisture ends up on the walls, ceilings and windows. Now if all condensation and moisture are left unchecked, it's inevitable that mould will start to grow rapidly.
So, what is the solution? |
We can't simply pick up and move our homes to warmer drier climate to solve the problem! But imagine if it were possible to bring wonderfully dry air into your home and forget about condensation with the press of a button….Well dream no more, that is exactly what a dehumidifier can achieve.
A dehumidifier begins by taking in the air from a room, it condenses the water via the refrigerated tubes inside then collects the water, whilst blowing out clean, dry air. On a rainy day, you could expect up to 90% humidity. Which is very moist. This useful wonder machine can reduce this humidity down to a perfect and safe 50-60% in a matter of hours. By continuing to run the dehumidifier it will start to reduce condensation on glass, tiles etc and dampness that has accumulated in the wall linings, furnishings, bedding, books, curtains, beds etc. Once the pre-selected humidity levels are reached the dehumidifier will then maintain this ideal humidity level automatically for you (via selectable dial or digital control), keeping your rooms condensation free. Furniture, walls and clothes will be kept perfectly dry and mould free. It is common for homes to have several portable dehumidifiers for use in larger rooms, bedrooms, lounge kitchens media rooms garages etc.
Visit our website to find out how Dehumidifiers offer an amazingly effective and cost saving solution, saving time on cleaning mould and preventing mould damage, that really do work.
We stock a great range of high-quality dehumidifiers in our home and commercial ranges at Damp Solutions.
While it can be tricky choosing the right unit to suit your climate and your room size, we like to make it easy for you……Contact Kim, Paul or Darryl for a FREE Australia-wide phone consultation to get your home back into healthy shape. Give us a call on 1300 353043 for no obligation advice.